20 Top Gifs of Dogs in Pools
We love animals and we love swimming pools, so naturally we find gifs of dogs in swimming pools hilarious. Take a look at our top 20. Do you find them as funny as we do?
1. Clever Doggy
This clever pooch has realised that, with a good run up, he can move across the pool on this float of what appears to be polystyrene.
2. Water Skiing Fun
In this gif a little girl is learning how to water ski in a swimming pool, and it looks like so much fun her pet dog wants to get involved in the action.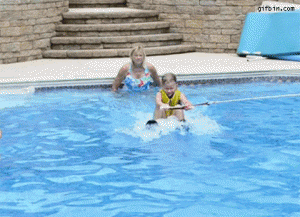 3. Little Chihuahua
Little dogs can be just as good at swimming as big dogs!
4. Slow Motion Diver
Check out this dog's diving technique in this slow motion diving gif.
5. Mother and Child
Swimming can be a fun activity for all the family, and this parent child duo are showing you how it should be done.
6. Public Doggy Pool
We have public swimming pools and lidos for humans, so why not make one for dogs? Oh wait, these people already have!
7. Get Wet
It is so easy to slip and fall into a pool; this dog learnt this lesson the hard way.
8. Lifesaver
Did you get your lifesaving qualifications as a child? Well, in case of an emergency this dog has you covered.
9. Eager Beaver
This little doggy is so excited about getting in the water that he has already started practising his stroke before he even hits the water.
10. Just Can't Reach It
He can't quite reach the ball, but he better get in there quick or someone else will come in and steal it. The water won't hurt you!
11. Hitch Hiking
This clever pooch decided to hitch a ride on the back of a puppy ferry.
12. Biting Water
That will teach them for trying to bite the water.
13. Angry at Water
Similar to the last gif, this dog seems to be angry at the water for some reason.
14. Persistence
Now this is determination. Will he get the ball?
15. Babies
These tiny puppies have to swim in a shallow pool because they are so little.
16. Push and Pull
Ever seen a dog jump into the centre of a rubber donut. Well, you'll have to wait a bit longer. This dog chickens out.
17. Pure Excitement
This dog is so excited to see water. We wonder if he's seen a paddling pool before?
18. Andrex Puppies Everywhere
We've never seen so much cuteness in one place before.
19. Run and Dive
Here's another doggy diver.
20. Pug in Goggles
Last, but not least, is our favourite gif of all. A pug in goggles. Enjoy!
So, which was your favourite gif? If you've made your own of your dog in a swimming pool, send it over... we'd love to see it!
Read more:
The 7 Worst Swimwear Designs We've Ever Seen
The World's Most Unusual Hot Tubs
The 7 Best Swimming Pool Games for Kids of All Time